Occupational Health Clinic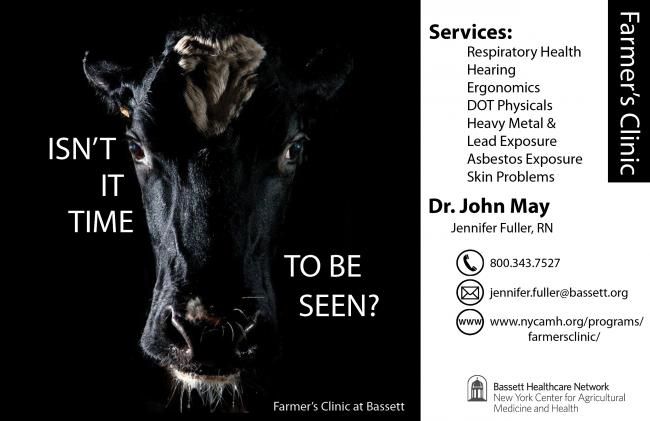 Does this sound familiar?
"I get up in the morning and I start coughing."
"There are odd-shaped moles and red sores on my neck, face or hands."
"I can't hear as well as I used to; there is a constant ringing in my ears."
"My back, neck, shoulders, and knees always ache."
"I keep forgetting things and I can't concentrate."
The Occupational Clinic is staffed by health professionals who can assist you and your doctor with farm-related health problems. Exams are accompanied by education and preventative efforts provided by a physician and an occupational health nurse. If needed, on-farm visits to assess work-related health and safety issues are scheduled at no cost to the farmers.
Most health insurance plans are accepted for these services.
The Occupational Clinic is located at Bassett Healthcare in Cooperstown, New York. For an appointment, please call 607-547-7014 ext. 5. The Occupational Clinic is one of six similar New York State Occupational Health Clinics created in 1987 by the New York State Legislature and coordinated by the New York State Department of Health.
NYCAMH Occupational Mobile Clinic
With convenient access to health care, occupational safety information and training through NYCAMH's mobile unit, taking care of your health and the health of your employees is easy and affordable.
NYCAMH is not a regulatory agency. Our mission is enhancing agricultural and rural health by preventing and treating occupational injury and illness.
Staffed by trained health and safety professionals, the mobile clinic travels throughout NYCAMH's agricultural service areas, bringing basic health screenings and occupational goods and services to farmers and rural employers where they live and work. Services are also provided at certain trade shows and events around the state.
Screening services are free for farms with less than eleven employees. For farms with eleven or more employees, there are minimal fees for certain services.Immunizations such as influenza and tetanus are available, and costs associated with these are reimbursable by most insurance companies.
Health Screenings:
Cholesterol Checks
Hearing Screening
Vision Screening
Blood Pressure Screening
Immunizations (cost associated)
Skin Cancer Screening (subject to provider availability)
Services Available:
Qualitative Fit Testing for Respirators
Power Take Off (PTO) Shield Sales
Personal Protective Equipment Sales
Scheduling for other NYCAMH Services Include:
On-farm Safety Surveys
Bilingual Safety Training
Financial Counseling
Mental Health Counseling
Referral to Local Occupational Health Clinics
ROPS (Rollover Protective Structure) Rebate Program
PTO (Power Take Off) Retrofit Program
To request the mobile clinic for an event or farm/business screening call (800) 343-7527.