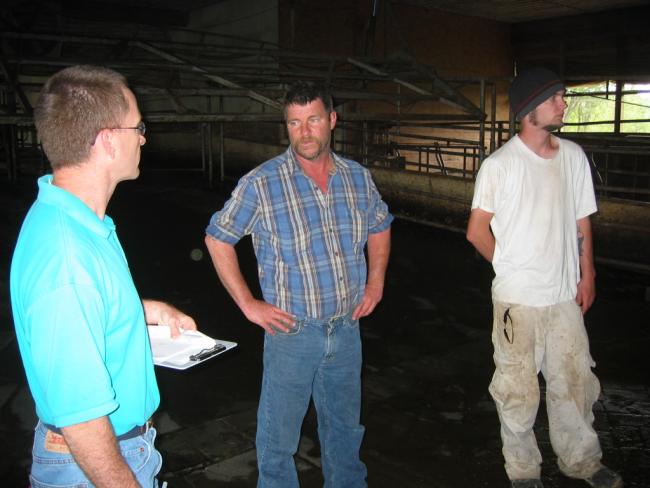 The New York Center for Agricultural Medicine & Health (NYCAMH) receives grant funding to provide farm safety services at little or no cost. These services are available to any type of agricultural operation in New York. Experienced NYCAMH educators and trainers promote safe and healthy farming by teaching safe work practices to audiences including youth, agribusiness professionals and farm workers of all backgrounds through a variety of programs.
On-Farm Safety Surveys
On-farm safety surveys review potential hazards around the farmstead, shop, tractors and machinery. They also evaluate use of personal protective equipment. The safety survey is designed for the farm owner or manager, but certainly can include others. A checklist is used and a copy will be provided after the survey, along with suggestions for improvements to be made. Results are for the farm's benefit only and survey information is kept confidential.
On-Farm Safety Trainings
All on-farm safety trainings are scheduled at a time most convenient for the farm, offered at no cost, and available in English and Spanish. NYCAMH trainings can help fulfill some USDA, OSHA and GAPS requirements. We provide a copy of the training roster and certificate of completion - paperwork that can help document training sessions for third-party auditors.
Topics include:
For Orchard and Vegetable Farms
Packing House and Product Line Safety
Personal Hygiene and Safe Food Handling (GAPS)
Heat, Sun, Hydration Safety
Worker Protection Standard (WPS)
Pesticide Safety
Tractor and Equipment Safety
PTO Safety
Skidsteer/ Forklift Safety
Safe Lifting and Carrying
Chainsaw Safety
Ladder Safety
Other topics by request
Dairy or Livestock Farms
Personal Protective Equipment
Tractor and Equipment Safety
PTO Safety
Skidsteer Safety
Mechanical Hazards
Confined Space Awareness
Manure Safety
Animal Handling
Lockout Tagout
Shop Safety
Milking Parlor Safety
Hazard Communications (Chemical Safety)
Other topics by request
Agribusiness Presentations
NYCAMH educators are regularly invited to present on agricultural health and safety topics at events including Farm Bureau or Cornell Cooperative Extension meetings, and programs held by commodity groups. These presentations to agribusiness groups are provided at no cost and are available on a variety of topics.
Outreach Events
NYCAMH outreach staff regularly attend a number of local and regional trade shows to promote agricultural safety and health. At these events we provide presentations and set up displays on a variety of topics.
Youth Farm Safety Activities
Youth farm safety activities are available to 4-H agricultural clubs, high school and college agriculture classes, Mennonite schools and other youth groups. Activities facilitated by a NYCAMH safety trainer can include:
Presentations at farm safety days or large farm shows
On-farm safety surveys or trainings
Tractor/machinery operator classes coordinated by county Cooperative Extension 4-H programs
Play-it-Safe Farm Safety Challenge Game
Farm Emergency Response Program
Farm Emergency Response Program trainings offered by NYCAMH are designed to help farm workers and families learn what to do if they are the first at the scene in an emergency situation on the farm. All these services are available at no cost in English and Spanish.
Topics include:
Fire Extinguisher and Fire Safety
Emergency Preparedness
First Aid and CPR Certification through the American Heart Association
Basic First Aid
On-Farm Fit Testing
The purpose of a respirator is to prevent the inhalation of harmful airborne substances. If you or your employees conduct do any of the following you may require respiratory protection:
Cleaning barns or other animal confinement areas
Mixing footbath chemicals
Applying pesticides, fertilizers, or other crop chemicals
Silo filling, unloading, or maintenance
Other grain or silage handling activities
Masks and respirators must be carefully selected to match each respiratory hazard. A respirator must fit your face properly, be NIOSH certified, and be appropriate to the hazard to provide adequate respiratory protection. One-strap disposable masks are not NIOSH certified and do not provide respiratory protection in any situation.
OSHA requires that a fit test be performed with the same make, model, style, and size of respirator before it is used.
NYCAMH can provide services for proper fit, use, limitations, and maintenance of respirators and cartridges, or we can connect you with a similar facility closer to you for these services. Contact us for additional respirator information.
Contact Us
Phone: 800-343-7527
Fax: 607-547-6087
E-Mail: info@nycamh.org