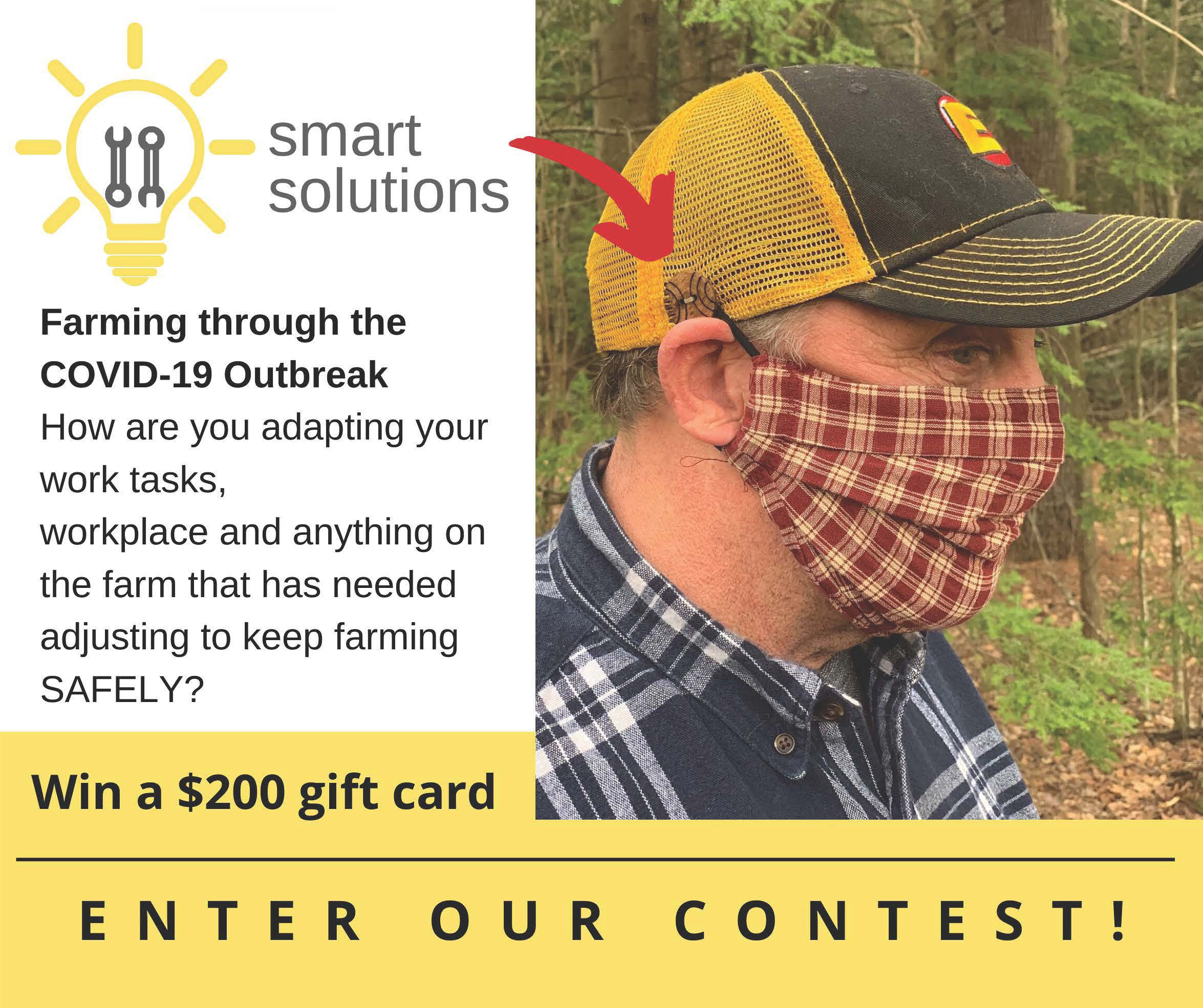 The Time to Share Ideas is Now: Enter our "Smart Solutions" Contest - May 29, 2020
Winner Receives $200 credit card gift card
Most farmers know how to fix just about anything—tractors, wiring, plumbing, buildings, equipment, etc. It's a daily requirement of the job. So when it comes to adapting to New York State's Interim Guidance for Prevention and Response of COVID-19 at Farms, released May 27, we believe some of the best and most practical fixes to an impractical situation come from the farmers themselves.
The "Smart Solutions" contest will be giving a $200 credit card gift card to the farm owner or employee who shared the best tip on how they've adapted, changed or innovated to make their work, workers or workplace safer during the COVID-19 pandemic. The time to share ideas is now.
The contest is sponsored by the New York Center for Agricultural Medicine and Health (NYCAMH) and the Northeast Center for Occupational Health and Safety (NEC).
To enter, go to: https://www.surveymonkey.com/r/NEC_smartsolutions
Here are some examples of "smart solutions" to managing the challenges of COVID-19 at work:
Color-code shovels, harvesting knives, and cultivation hand tools with duct tape, to avoid sharing. One person uses the tools marked with red tape, another only the ones marked with blue tape, etc. (Free Bird Farm, Palatine Bridge, NY)

Sew buttons onto the sides of your cap to hook face cover straps over so they aren't pulling on your ears. (Ian Lake, delivery driver, NH)
NYCAMH has also released a series of practical tips for farm operations related to COVID-19 safety and prevention in the posters section of their COVID-19 web page (scroll to bottom of page).
The terms of the "Smart Solutions" contest are as follows:
Submissions will be accepted through July 15, 2020. One winner will be selected for the $200 gift card.
To be eligible, you must be 18 years of age or older and own or work for a commercial farm located in Maine, New Hampshire, Vermont, Massachusetts, Rhode Island, Connecticut, New York, Delaware, New Jersey, Maryland or West Virginia. You may submit more than one idea.
By submitting an idea, you give permission to the Northeast Center for Occupational Health and Safety (NEC) and the New York Center for Agricultural Medicine and Health (NYCAMH) to share your creative idea and photo via websites, newsletters, social media, or other communications channels. We will not share your contact information without your expressed consent.
Find news updates, videos, and a variety of COVID-19 resources for agricultural employers and employees at www.nycamh.org/covid-19. If you would like more information about the contest, NYCAMH's free virtual employee trainings, PPE sales or other services, please contact NYCAMH by calling 800-343-7527 or email info@nycamh.com.