Preventing Tractor Overturn Injuries
Multistate ROPS Retrofit Program
The Challenge:
Tractor overturns are the most frequent cause of death on U.S. farms and are of particular concern in the Northeast region, which has the highest rate of overturn fatalities in the country. Installing rollover protective structures (ROPS) on all unprotected tractors is the only proven method for eliminating the deaths and injuries associated with these events.
Impact:
The Northeast Center used a social marketing approach, along with a retrofit hotline and rebate, to encourage farmers in New York to install ROPS on their tractors. The program has increased the sale of ROPS in New York ten-fold. The goal of the multi-state expansion project has been to assess whether a similar intervention model could be used to stimulate ROPS installation activity in Vermont, Pennsylvania, and New Hampshire.
Approach:
Social marketing requires: 1) selecting a target population; 2) identifying the population's motivators and barriers to change; and 3) developing solutions that make change easier. Formative research conducted in each of the participating states indicates that the most powerful disincentive among farmers to installing ROPS is cost, followed by the difficulty in finding and pricing ROPS, and misconceptions regarding personal risk. The intervention in each state has been designed to address these issues and each intervention component has been evaluated by the target population.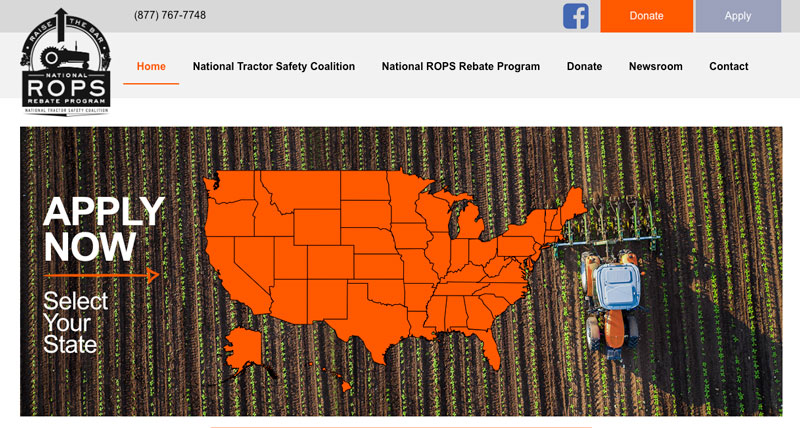 ROPS Retrofit Program website homepage
Results:
Each of the state programs have just been launched. The Vermont rebate program was launched on September 28th, 2010. In just five weeks, twenty Vermont farmers have already purchased ROPS for their tractors. New Hampshire's program was launched on November 30th, 2010, and Pennsylvania's program was launched on January 4th, 2011.
Additional Resources: