On-Farm Safety Program
Occupational Injury Reduction
The Challenge:
Farming is a hazardous industry, with high rates of serious and often fatal injury. The agricultural workforce is diverse in terms of age, experience, training and national origin. The challenge is to provide worksite safety training appropriate to the needs of farmworkers, many of whom have limited English skills.
Impact:
The New York Center for Agricultural Medicine & Health (NYCAMH) developed the On-Farm Safety Program to deliver safety education directly to farm owners and workers at their worksites, in English or Spanish. Post-training evaluations have consistently shown increased hazard awareness. In addition, farm owners who participate in the program regularly welcome trainers back year after year. This creates a positive safety environment with farm owners and workers alike. Approximately 70 farms request safety surveys annually, and trainings reach an average of 1,703 farm workers per year.
Approach:
NYCAMH received grant funding from the New York State Department of Labor Hazard Abatement Board to provide on-farm safety trainings and on-farm safety surveys. Trainings and surveys were conducted at a time most convenient for the farm, at no cost, and were available to any size or type of farm in New York. All safety topics were offered in English and Spanish.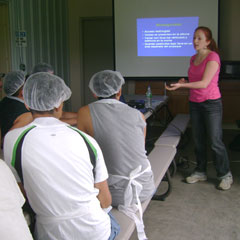 Packing house safety training
The on-farm safety training sessions were designed to increase the workers' knowledge of safe work practices and to positively influence safe work behaviors. A variety of topics were offered.
On-farm safety surveys aimed to identify potential farm hazards, make suggestions for improvements, and encourage farm owners to follow through on safety recommendations.
-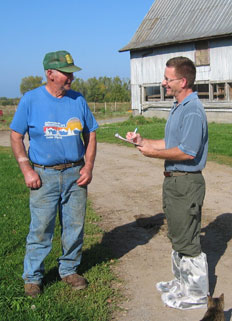 On-farm safety survey
Results:
On average, 187 on-farm trainings are held, reaching 1,703 farmworkers annually. Post-training evaluations were collected from on-farm training session participants. Percentage reporting learning something new from the training:
English speaking: 97.6%
Spanish speaking: 87.5%
In a telephone follow-up survey, 95.5% reported observing workers using safe work practices as a result of the training session. Of those interviewed after conducting an on-farm safety survey, 82% reported having made improvements, and 100% are in favor of NYCAMH continuing to offer this program.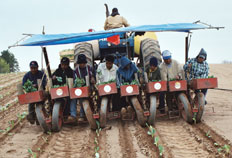 Additional Resources: