NAGCAT Promotion Intervention
Child Farm Injury
The Challenge:
Children who work on family farms have high rates of injury, as much as six times that of non-farm children. Many injuries occur when children attempt farm tasks which are not age-appropriate. Guidance for parents on safe farm task assignment according to child development science has not been effectively disseminated to Northeastern farm families.
Impact:
18 months after the Northeast Center (NEC) undertook a dissemination and evaluation program using the National Children's Center's new North American Guidelines for Children's Agricultural Tasks (NAGCAT), significantly more families in the guideline-based program set limits on the amount of time a child could work, provided more supervision to working children, and made other safety-related changes.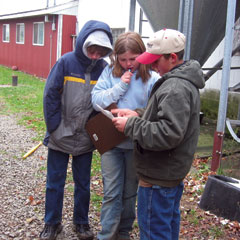 NAGCAT guidelines help farm families determine age-appropriate tasks for children
Approach:
The North American Guidelines for Children's Agricultural Tasks (NAGCAT) is a resource developed to assist parents in assigning farm jobs to their children 7 to 16 years of age. NAGCAT recommendations for children's agricultural chores are not based on age. Instead, they focus on growth and development to assess a child's ability to complete a task and their need for supervision.
In this guideline promotion intervention, lay educators from the Northeast Center (NEC) visited selected farms to review NAGCAT guidelines with farm family members. To evaluate the effect of active NAGCAT promotion, data on childhood injuries, tasks, and hours worked were obtained quarterly for 21 months. Injury rates per farm were compared between the treatment and control groups, along with time span to occurrence of an injury and to violation of NAGCAT age guidelines.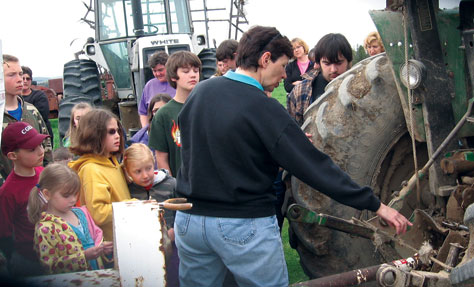 Results:
Intervention farms were less likely than control farms to violate NAGCAT age guidelines in the areas of all-terrain-vehicle use and tractor and haying operations. Participating farm families were more likely to follow age guidelines on using ATVs and tractors, hitching trailed implements to tractors, and baling hay.
Additional Resources: