Migrant Clinician Occupational Health Reference Manual
Farmworker Safety and Health
The Challenge:
Occupational injuries and illnesses account for roughly 15% of adult farmworker medical visits at migrant health centers. However, a majority of the physicians and other medical care providers report that they do not have training in occupational medicine, especially as it relates to farm work. Additionally, a number of constraints make worksite assessments, which are a key component of occupational medicine, impossible in this setting.
Impact:
In response to a critical care issue that had been identified by clinicians themselves, researchers at the Northeast Center (NEC) developed a manual aimed specifically at meeting the occupational medical care needs of migrant and seasonal farmworkers. The manual was designed to assemble training and informational support in occupational medicine for migrant health center clinicians.
Approach:
To develop the manual, researchers first conducted extensive interviews with migrant health center clinicians. Their input has led to the design of the manual, a tabbed book with individual sections on: a) how to provide an occupational health history; b) "virtual" agricultural worksite visits (describing the field, orchard and livestock work environment); c) common work-related health problems among Northeast farmworkers; d) corresponding patient educational materials (in multiple languages); e) guidance on Worker's Compensation, and f) how to provide culturally competent care. This resource is also available online, with freely downloadable patient education materials. The manual was disseminated with assistance of the Migrant Clinician's Network, who promoted to member clinicians.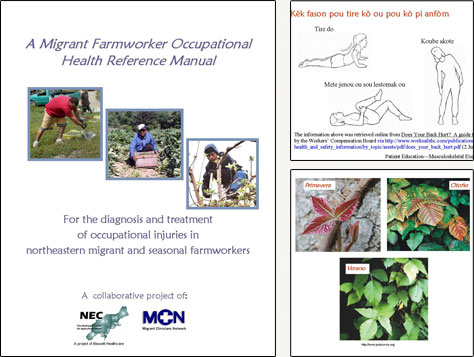 Sample pages from the manual
Results:
The manual has been widely distributed and is available both online and in print. In the first 3 months after establishing the manual link on the Migrant Clinicians Network website, the site received over 2,000 hits, predominantly on the patient education pages. Today, even with somewhat limited promotion, individual page hits range between 900 and 1,200 per quarter. In the coming year a new expanded edition will be published, featuring common farmworker health issues from other regions of the US.
Additional Resources: