Farm Emergency Response Program
Occupational Injury Reduction
The Challenge:
In an emergency, there are many challenges associated with farm rescues. In rural areas it may take over 30 minutes for EMS to arrive on-scene, especially to remote locations such as fields. Rescuers may not be familiar with farm hazards such as large animals, chemicals, or machinery. Many farmers and their families are not trained in first aid and rescue and may not know what to do in a fire, tractor rollover, machinery entanglement or other farm emergency. They may even endanger themselves trying to save a loved one.
Impact:
The Farm Emergency Response Program (FERP) provides free on-farm training in English and Spanish to New York farmers, farmworkers and farm family members. The training provides the skills needed to safely respond to an emergency situation on the farm without putting oneself in danger. In its first two years, the program has reached over 2,000 individuals who might not otherwise be prepared for an emergency.
Approach:
In 2008, NYCAMH received grant funding from the New York State Department of Health to develop the FERP program. NYCAMH safety educators received instructor training in order to provide CPR and first aid certification to farm families and workers through the American Heart Association. They also purchased equipment and developed materials for conducting emergency response trainings on the farm. Training topics were offered in English as well as Spanish.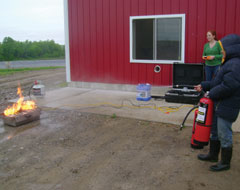 Fire extinguisher training
FERP Training topics offered:
First response to farm emergencies
Basic first aid
Fire safety and extinguisher use
First aid and CPR certification
One important aspect is that training is held on the farm, in the environment where a farm emergency would occur. FERP training includes discussion of rescuer safety: emergency preparedness, staying calm, calling for help, and assessing the scene before attempting to help the victim.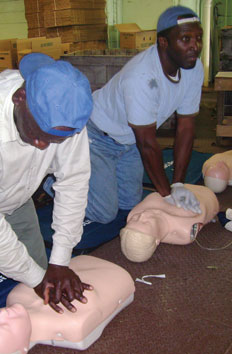 Farmworkers learning CPR
Results:
The FERP program has provided farm emergency response training to over a thousand people since its creation in 2008. Feedback for this program has been overwhelmingly positive. One worker commented, "Thank you so much for this class, it's important and it helps." 100% of trainees have indicated that they felt they could apply the skills learned in an emergency.
Additional Resources: