Farm Partners
Stress and Mental Health
The Challenge:
According to the National Institute for Occupational Safety and Health (NIOSH), farming is one of the top ten most stressful occupations. This stress can be significantly increased as a result of the depressed economy, decreased farm milk price, lack of health care coverage, aging farm population and farming with a disability. It can be difficult knowing where to turn for assistance and what services are available.
Impact:
The NYCAMH Farm Partners Program was established in 1992 to address the problems associated with work-related stress in farming. Farm Partners provides free and confidential on-farm counseling and case management assistance to farmers and their families. The Farm Partners Program utilizes the "team approach" and works in conjunction with other farm human service agencies to assist the farmer with problem solving. The most common issues for which farmers sought help were: a lack of medical insurance (27%); physical disability (27%); and mental health concerns (15%).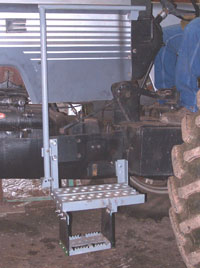 Tractor step modifications allowed a disabled farmer to continue farming
Approach:
A licensed social worker goes to the farm and assists the farmer with the completion of all required paperwork, enabling them to apply for Medicaid, Family Health Plus, hospital financial assistance or Social Security Disability. The social worker then applies for services, as a representative of the farmer, allowing the farmer to remain on the farm. The social worker assists disabled farmers in securing the services they need to remain farming. If the farmer is unable to continue farming due to disability, the social worker assists the farmer in applying for Social Security Disability.
-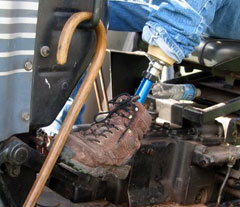 Results:
Farm Partners staff have successfully applied for Medicaid, Family Health Plus and hospital financial assistance for numerous farm families.
Successfully appealed a hospital denial of $89,981 in financial assistance.
Farm Partners staff have secured over $500,000 in hospital financial assistance.
Successfully appealed insurance company denials, $24,000 in Workers' Compensation back payments and $30,000 in Social Security overpayments.
Collaborated with VESID and agricultural engineers to provide over $10,000 in vehicle, tractor and equipment modifications for disabled farmers.
Secured three 4-WD farm utility vehicles for disabled farmers.
Successfully applied for Social Security Disability for 15 disabled farmers.
Additional Resources: