Orchard Ergonomics
The Challenge:
Orchard work is associated with musculoskeletal injury, largely as a result of carrying loaded apple buckets for hours. During much of that time, workers are also twisting and stooping. Musculoskeletal strain, especially in the back, neck and shoulders, is one of the most common injuries among migrant and seasonal farmworkers.
Impact:
NEC researchers designed an ergonomic hip belt designed to reduce pain and strain among orchard workers. The belt redistributes weight from the upper back, neck and shoulders to the hips. It has been shown in laboratory and orchard testing to significantly reduce the load on several key muscles. Currently researchers are field testing different belt options to arrive at one universally preferred model.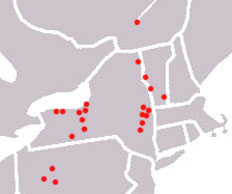 Belt designs have been tested in orchards around the Northeast
Approach:
Researchers held informal meetings with orchard owners and managers, farm workers, and other apple industry representatives to discuss a range of possible intervention ideas. The aim of this project was to reduce injuries due to sprains and strains and to improve picking comfort, without compromising harvesting efficiency.
-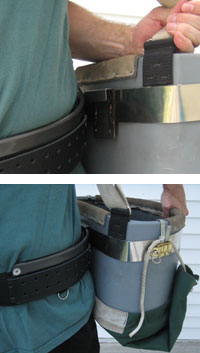 Close-up of current belt design
Results:
Ideas were evaluated on potential cost, acceptability to workers, and impact on harvest speed. The intervention that emerged from this process was a hip belt that attaches to the apple picking bucket (see photos). The ergonomic belt redistributes weigh from the upper back, neck and shoulders to the hips and does not appreciably slow picking speed. In laboratory studies, significant reductions in muscle activity were seen with belt use.
A new design has been developed using suggestions from workers who tested the equipment. Tools are no longer needed to install the hook on the bucket, and the system incorporates "off the shelf" components to lower production costs. The new belt design is currently being tested in several orchards around the Northeast.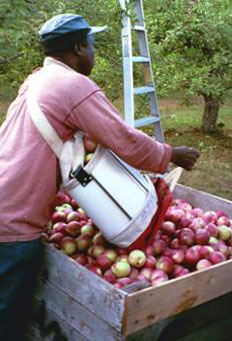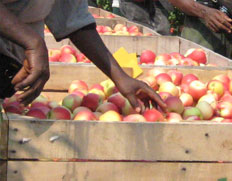 Additional Resources: