Culturally Appropriate Farmworker Safety Materials
Occupational Injury Reduction
The Challenge:
Language and educational barriers present unique challenges for farmworker health and safety. Of the estimated three to five million migrant and seasonal farmworkers in the U.S., more than three-quarters (77%) are foreign-born. Farmworkers perform much of the manual labor on farms today, and thus they are at high risk for muscle strain as well as traumatic injury. Language and cultural barriers, along with little formal education, often prevent farmworkers from understanding safety warnings and other information intended to protect them.
Impact:
The Northeast Center has created culturally appropriate, multilingual safety materials with input from the migrant and seasonal farmworkers who will use them. To date, researchers have developed safety posters and other print materials on 23 different topics, and pilot-tested them with farmworkers for clarity and impact. Thousands of copies of these materials have been distributed to the agricultural community throughout the Northeast.
Approach:
Northeast Center (NEC) researchers have collaborated with migrant and seasonal farmworkers to communicate the results of farmworker research, and to present safety warnings and recommendations in a way that is meaningful to farmworkers. Posters and other materials are pilot-tested with focus groups, using a strategy of: discussing the topic in general, capturing experiences, views and feelings of participants around the topic, and then presenting multiple versions of material for discussion and critique. In this process, farmworkers have expressed over and over again the importance of presenting imagery of real farmworkers in actual situations.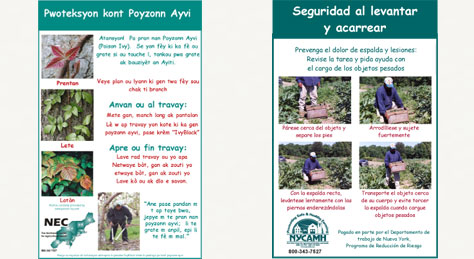 Sample print materials
Results:
This participatory materials development approach has resulted in:
Printed safety posters and flyers on 23 topics (in 2 or sometimes 3 languages), as well as English-language brochures, are available free for download at www.nycamh.org. To date, we receive thousands of requests or downloads of these print materials each year.
The process of material co-creation has been integrated into NYCAMH and Northeast Center community-based participatory interventions, such as in New York's Hudson Valley region. Farmworkers worked with researchers to develop pocket guides on eye safety to accompany a protective eyewear and eye wash promotion project. Close to 1,000 copies of the materials have been distributed to date.
Similarly, farmworkers in a Connecticut shade tobacco region collaborated with researchers to develop teaching materials for bilingual trainings on pesticide safety, hand washing, clothing storage, and laundry techniques. To date, close to 1,000 workers have been trained using these materials.
Northeast Center researchers also employed this technique to develop materials to effectively communicate results from the National Agricultural Workers Survey to migrant and seasonal farmworkers.
Additional Resources: