Blueberry Worker Ergonomics
Farmworker Safety and Health
The Challenge:
Each year, approximately 8,000 migrant and seasonal farmworkers participate in the manual harvesting of blueberries in Maine. Manual raking of blueberries can lead to musculoskeletal pain and injury. Musculoskeletal strains are among the most common injuries for migrant and seasonal farmworkers. Farmworkers have traditionally used a rake with a single, short handle. Raking requires consistent bending at the waist and rapid, repeated, forceful motions.
Impact:
Northeast Center (NEC) researchers used a community-based approach to develop a new blueberry rake. A long, 2-handled blueberry rake design was tested and proven to increase productivity, require less force and reduce pain amongst farmworkers. A two-year follow up showed over 70% of those interviewed now use a long handled rake.
Approach:
Employing a community-based approach to public health intervention targets a community which can help provide resources and serve as an agent of change. The community-based approach used in this project created the ability to access the experience of knowledgeable individuals in the selection of potentially effective alternatives to the traditional blueberry rake. This project included both migrant farmworkers and employers which enhanced access to workers, access to work sites and the process of planning the trials.

Short- and long-handled blueberry rakes
Results:
After a pilot study employing 12 rake designs, the project focused on a comparison between the extended handle modification and the traditional, short handle blueberry rakes. There was increased productivity, greater acceptability, less force used and less pain reported with the extended handle design. The extended handle rake may prove effective in reducing musculoskeletal injury associated with blueberry harvesting. A community-based approach to migrant farmworker injuries can be effective, particularly if employers participate.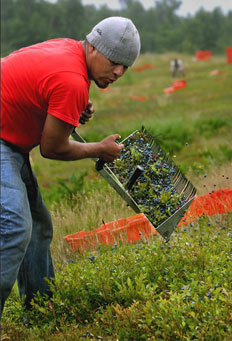 Photo by Earl Dotter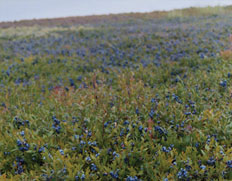 Additional Resources: